Spray Foam Insulation Cost in Hull, Massachusetts
How Much Will Spray Foam Insulation Cost?
Installing spray foam insulation in your Hull home or office doesn't have to be expensive. We are commonly asked about the price of spray foam insulation vs. other types of insulation. The answer depends on several factors. You'll want to know the square footage of the area(s) to be covered, the type and quality of spray foam and the cost of labor. Many people use a combination of two types of insulation. Another thing to consider when determining your costs is the fact that you'll immediately see savings on energy usage. When you call HomeCore, LLC for a spray foam installation price in Hull Massachusetts, we'll take a look at the size and scope of the work and present you with a written quote for materials and labor. Just call us at (781) 277-2487 for a free, no obligation quote on installing spray foam in your Hull home.
Can Installing Spray Foam in My Hull Home Save Me Money?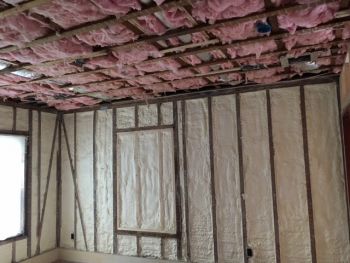 Definitely! New construction homes are now coming standard with many energy efficient features, including heating and cooling units, insulation, high-performance windows, appliances, lighting, etc. But you don't have to invest in a newly constructed home to reap the benefits of energy efficiency. Making changes over time toward energy efficiency will also work. Most new appliances are energy efficient. Having HomeCore, LLC upgrade your home's current insulation in Hull with spray foam insulation will make a big difference in your heating and cooling costs. You'll experience fewer drafts and more consistent temperatures. Your air quality will also improve, as the newly installed foam will provide a barrier for allergens and pollutants. In general, making changes to your existing home to increase energy efficiency can save as much as 30% of your home's energy consumption, which will result in notable savings on monthly bills.
---
Call for FREE Spray Foam Insulation Cost Quote
---
WHAT CUSTOMERS ARE SAYING:
5★★★★★ - "House Renovation in Rutland, MA. After reviewing numerous bids that fluctuated greatly in price estimates, I selected HomeCore to spray insulate the entire house. Brandon and his work crew were extremely professional and highly skilled at what they do. The house is now airtight and structurally stronger, and I will experience cost savings in the long run. HomeCore is now my insulation company of choice."

Kent & Son LLC in Paxton, MA

5★★★★★ - "Very happy with this company. Brandon, the owner, gave a very thorough estimate and walked me through the process. The workers were pleasant, prompt and clean. They are not the cheapest, but well worth the money. I highly recommend HomeCore."

Jennifer Reynolds, Spray Foam Insulation in Beverly, MA

5★★★★★ - "They did a great job with installing closed cell insulation! Great price and very professional. Would hire them again and highly recommend them."

Perry M., Spray Foam Insulation in Scituate, MA

5★★★★★ - "HomeCore did an amazing job insulating our basement. The floors on the first floor of our home were very cold, and this was due to having an old stone basement with leaks and cracks where cold air (as well as mice and insects) would come in. Brandon recommended closed-cell spray foam on the basement walls up to and including the rim joists. On the day of, the job was immaculate and very well done. In addition to applying the spray foam, they removed all the existing old insulation and took care of the disposal. The whole crew was courteous and professional and got the work done ahead of schedule. They even came by and did a few spot touch-ups for free about a week later. Robert was super easy to work with, and extremely responsive to phone calls, courteous and patient to answer every question that I had. Pricing was also excellent. Our first floor and basement are much warmer during the winter now! Would highly recommend them to anyone looking to do any insulation job!"

Evan L., Residential Spray Foam in Wellesley, MA

5★★★★★ - "Wonderful company, excellent customer service and super polite, hard working employees! I had my attic foam insulated and my walls cellulose insulated this week and already feel the difference. I recommend this company to all!"

Melissa W., Attics and Crawlspaces in Concord, MA
---
Call for FREE Spray Foam Insulation Cost Quote
---