Spray Foam Insulation
Spray foam Insulation is an economical and effective method of insulating any building. HomeCore, LLC specializes in the application of spray foam insulation. Spray foam insulation creates a tight building. It will seal your structure against drafts and moisture and is the fastest way to experience a reduction in energy consumption.
Spray foam is uniquely qualified to get into those tight spaces to properly seal a building, places humans can't access such as attic crawl spaces.
---
Call for a FREE Quote
---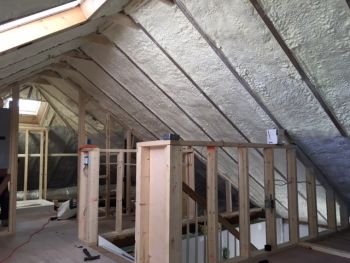 Benefits of Polyurethane Spray Foam Insulation:
Adds strength and support to a building structure
Prevents sagging over time
Saves energy
Reduces heating and cooling costs
Seals buildings from air and moisture
Protects residents from mold, airborne pollutants, and allergens
Improves air quality
Types of Spray Foam
There are two types of spray foam insulation; open-cell and closed-cell spray foam. They both have their uses and merits. In general, you don't want to use open-cell insulation below ground level, as it doesn't provide a strong enough barrier against water. However, open-cell insulation is far less expensive and does have excellent insulation properties. Most consumers us a combination of the two.
---
Call for Fast FREE Quote
---